Meeting Room
Edit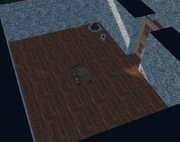 A basic workshop that acts as a rally point for diplomats from outside the colony. Your chosen diplomat will meet them here. The walls, floor and lighting will affect the quality of the 'workshop', improving the opinion of your colony from the perspective of the faction visiting.
Description
Edit
Designated point for trade and first contact with other factions. The quality of the meeting room impresses visiting factions and increases the chance of positive interactions.
Requirements
Edit
6 Logs
Carpentry
Research: Diplomacy
Community content is available under
CC-BY-SA
unless otherwise noted.